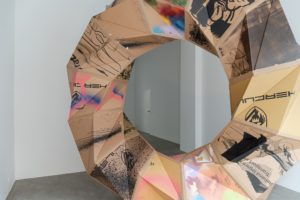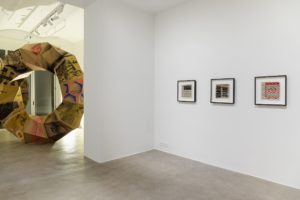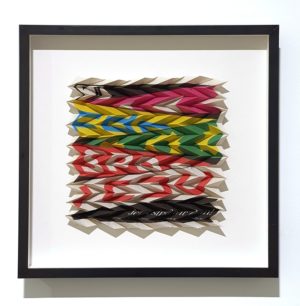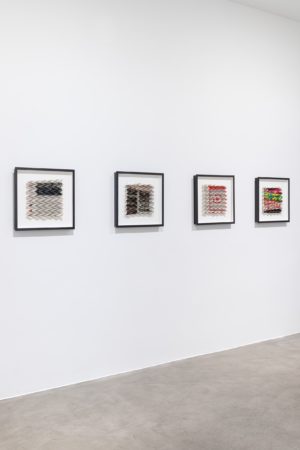 Die Ausstellung TWIST zeigt neue Werke des Bildhauers Peter Sandbichler. Als Reaktion auf die aktuellen Herausforderungen des Lockdowns und Social Distancing, sind die eigens für SUSSUDIO konzipierten Arbeiten so angelegt, dass ihre Wirkkraft auch vom Straßenraum aus erfahrbar ist. So entwickelte Sandbichler eines der Werke speziell für die Fassade des Hauses in der Wolgang-Schmälzl-Gasse 19 und schafft so bewusst einen Dialog zwischen Innen und Außen.
Peter Sandbichler ist bekannt für seine modular konstruierten Skulpturen und Installationen, mit denen er Alltagsmaterialien im Spannungsverhältnis zwischen Präzision und Zufall transformiert. TWIST ist nicht nur Titel der Ausstellung, sondern auch der Name einer raumgreifenden Skulptur: ein Ring mit knapp drei Metern Durchmesser, zusammengesetzt aus zwölf sechseckigen, sich ineinander verdrehenden Grundmodulen. Komplex und einfach zugleich ist das Werk aus recyceltem Karton hergestellt, dessen Oberfläche die ursprüngliche Industriebeschriftung, schwarze Tuschezeichnungen des Grafik Novel Künstlers Hannes Hagen und Zufallsspuren aus Sandbichlers Atelier gleichwertig integriert. Durch eine intrikate Falttechnik verwandelt sich die Fläche des Kartons in ein dreidimensionales Objekt, dessen verwinkelte Facettenstruktur in mannigfacher Weise mit dem Licht spielt.

Licht ist auch eine wichtige Komponente in der von Sandbichler geschaffenen Fassadeninstallation. Das Leuchtobjekt aus Plexiglas und Olivenholzfurnier darf als Hommage an Richard Artschwager gelesen werden und hinterfragt elegant die Sinnhaftigkeit von (Werbe-)Schildern im öffentlichen Raum, aber auch etablierte Grenzen zwischen Natur und Kultur oder Kunst und Kommerz.
Einlass in die Galerie erfolgt gegen Voranmeldung und unter Einhaltung der geltenden Covid-19 Sicherheitsmaßnahmen.
Um das Spektrum und die vielen Querverweise von Sandbichlers faszinierendem Oeuvre erfahrbar zu machen, findet unsere Ausstellung in Kooperation mit der Galerie Elisabeth & Thomas Thoman statt, in deren Wiener Dependance ab dem 9. Dezember weitere aktuelle Werke des österreichischen Künstlers zu sehen sind.
(Fotos: Fritz Kargl)

The exhibition TWIST features new works by sculptor Peter Sandbichler. In reaction to the current challenges related to lockdowns and social distancing, Sandbichler has created pieces exclusively for SUSSUDIO which can also be experienced from the street outside. One of the objects has been specifically designed for the façade of the building on Wolfgang-Schmälzl-Gasse 19, thereby consciously prompting a dialogue between interior and exterior.
Peter Sandbichler is renowned for his modular sculptures and installations in which he transforms everyday materials using the tension between precision and coincidence. TWIST is not just the title of the exhibition but also the name of a large-scale sculpture: an upright ring with a diameter of nearly three metres, assembled from twelve six-sided modules that are twisted against each other. Complex and simple at once, the piece is made of recycled cardboard whose surface homologically integrates the original industrial lettering, black ink drawings by graphic novel artist Hannes Hagen, and random marks from Sandbichler's studio. An intricate folding technique transforms the cardboard surface into a three-dimensional object whose contorted and faceted structure plays with the light in manifold ways.

Light is also a key component in Sandbichler's facade installation. The illuminated object made of olivewood veneer can be interpreted as an homage to Richard Artschwager and elegantly challenges the purpose of (advertising) signs in the public space as well as the established boundaries between nature and art respectively between art and commercialism.
Entry into the gallery by appointment and according to current covid-19 safety measures.

In order to make the spectrum and the many cross-references of Sandbichler's oeuvre tangible, our exhibition takes place in cooperation with Galerie Elisabeth & Thomas Thoman, at whose Viennese location further current works by the Austrian artist will be on display from December 9.
(Photos: Fritz Kargl)