Lukáš Machalický
Robert Šalanda
29.05.—20.06.2021

Knock Knock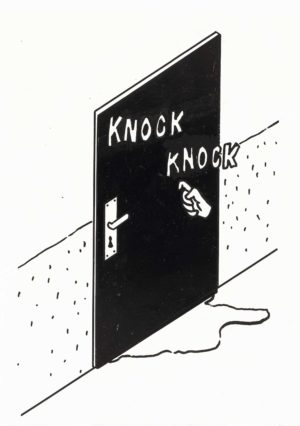 Nachdem wir Coronabedingt immer wieder verschieben mussten, freuen wir uns jetzt besonders Ihnen / Euch mit KNOCK KNOCK die neue Doppelausstellung von Lukáš Machalický und Robert Šalanda
ankündigen zu dürfen! Die beiden tschechischen Künstler zeigen neben einer speziell für Sussudio angefertigten raumspezifischen Installation auch aktuelle Arbeiten, die multidisziplinär sowohl Gemälde, 3D Scans und Materialbilder umfassen.
Die Ausstellung findet in Zusammenarbeit mit der Prager Galerie SPZ statt.

Die Eröffnung ist am Samstag, 29. Mai 2021, 16-20 Uhr in Anwesenheit der Künstler.
Selbstverständlich erfolgt der Einlaß in die Galerie gemäß den geltenden Corona-Schutzmaßnahmen.

»Das Gebäude hat drei Stockwerke: das Untergeschoss (mit Zugang zum Garten), das Erdgeschoss und das Obergeschoss mit einer Gesamtfläche von 300 m² einschließlich der Garage. Alle Zimmer sind mit Parkett
ausgestattet, andere Teile des Hauses haben ihre ursprünglichen Marmorböden. Die Wände sind weiß gestrichen und wechseln sich mit angenehm hellen Farbblöcken ab. Das Gästezimmer im Obergeschoss hat ein Farbschema von frischem und fröhlichem Grün mit gedämpften Grau- und Weißtönen. Im Erdgeschoss befinden sich eine Kleiderkammer (mit Fenster) und der Hauswirtschaftsraum mit Waschmaschine und Trockner... Der Ruheraum und die Küche werden von Holz dominiert, das mit den Schieferfliesen in Küche und Kamin kontrastiert. Das Arbeitszimmer verfügt über einen kleinen Schreibtisch, einen mit Intarsien versehenen Sekretär, zwei Uhren und zwei rechteckige Spiegel. Hier wird auch die Schießausrüstung aufbewahrt. Ein weiterer Raum dient als Schlafzimmer mit zwei Betten, zwei Tischen und mehreren Stühlen. Die Innenausstattung umfasst zwanzig beleuchtete Papierlandschaften. Der letzte Raum ist zum Entspannen gedacht, wie die Einrichtung andeutet (Sofas, türkische Teppiche, eine Laute usw.).«
Fotos: Tomas Souček
After the pandemic forced us to postpone multiple times, we are all the more delighted to finally be able to announce the new exhibition KNOCK KNOCK by Lukáš Machalický and Robert Šalanda! Next to a site-specific installation designed exclusively for Sussudio, the two Czech artists will also show other current works, including paintings, 3D scans and collage objects. The exhibition takes place in collaboration with the Prague-based gallery SPZ.

Opening on Saturday, 29 May 2021, 4-8 pm
Entry into the gallery by appointment and according to current Covid-19 safetymeasures.
The artists will be present.

»The building has three storeys: the lower ground floor (with access to the garden), the ground floor and the upper floor, with a total floor area including the garage of 300 m². All of the rooms have parquet flooring, and other parts of the house have their original marble floors. The walls are painted white, alternating with blocks of pleasant, light colours. The guest room on the upper floor has a colour scheme of fresh and cheerful green with muted tones of grey and white. On the ground floor there is a cloakroom (with a window) and the building's utility room, with a washing machine and dryer… The relaxation room and kitchen are dominated by wood, which contrasts with the slate tiles fitted in the kitchen and fireplace. The study has a small desk, an inlaid writing table, two clocks and two rectangular mirrors. Shooting equipment is also stored here.
Another room serves as a bedroom, with two beds, two tables and several chairs. The interior décor includes twenty illuminated paper landscapes. The final room is for relaxing, as its furnishings would suggest (couches, Turkish carpets, a lute, etc.).«
Photos: Tomas Souček